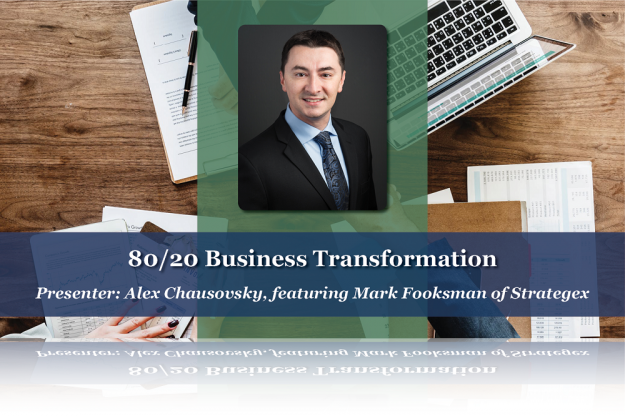 November 2018 - 80/20 Business Transformation
About the Webinar
ITR Senior Consulting Advisor Alex Chausovsky will discuss tariffs and the pricing environment. He will highlight the need to maintain profit margins during a period of increasing inflationary pressures and review important management objectives that will help companies maintain their profitability as the US economy transitions to the back side of the business cycle in 2019.
Marc Fooksman, Vice President and 80/20 Expert at Strategex, Inc. will then walk through the 80/20 process with a mission to provide an overview of the 80/20 Principle as it applies to business. He will present a series of concepts and practical examples such that the learning can be applied upon completion of the session. Learn how to uncover and focus on the "80s" of your business — the critical few customers, products, and activities that provide 80% of the value. Don't waste time on the insignificant many that provide very little value.
Values provided:
Understand how complexity creates unnecessary cost
Focus on what's most important to improve profitability
Simplify your business to free up resources
What will attendees receive?
The audience will better understand the impact of government trade policy on the economy, as well as ITR's resulting expectations for inflation and interest rate policy. Attendees will learn how to analyze data that exists in their business that shows they fit the 80/20 model. Using this data, they can take immediate steps to focus resources on what's most important: improving profitability while reducing working capital.
Still Have Questions?
Interested in November 2018 - 80/20 Business Transformation but want to learn more? Feel free to reach out and talk to an expert today.