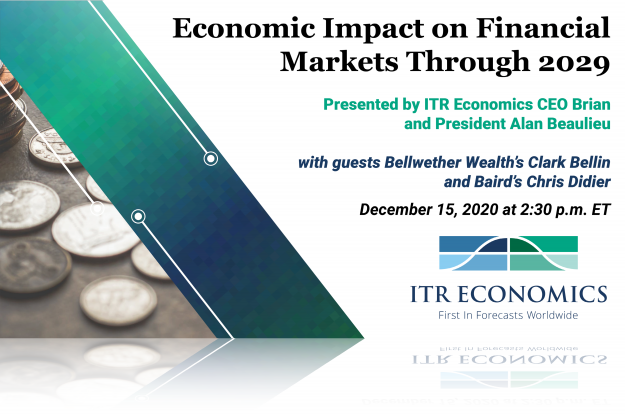 December 2020 – Economic Impact on Financial Markets Through 2029
Presented by ITR Economics CEO Brian Beaulieu and President Alan Beaulieu
The live presentation of this webinar has now passed. Click "add to cart" to purchase the recording.
About the Presentation
Economic changes are ahead. Some directly because of COVID but more as a byproduct of COVID and the recession. These changes are going to alter the financial landscape. For the first time ever, we will present our view of the US dollar's overriding direction through an extended period: the end of this decade. Additionally, we have two guests joining us to speak about the investment landscape. Many folks have their own personal financial advisor. Our guests may supply a perspective not found outside the ITR sphere, and they may make you think of some questions to ask your current advisor. Both guests will speak of issues beyond our normal purview at ITR Economics. Together, we will paint a portrait of how to hedge the business on the international scene, protect your wealth, and increase your wealth.
This presentation will also feature poll questions for attendees to answer via the ITR onDemand App! Poll results will be revealed during the presentation - click here to learn more about how it works.
Values provided
GDP outlook for the next five years for strategic business planning.
Why we think what are espousing for interest rates and inflation.
Looking at the trend probabilities for the US dollar against our trading partners will tie in with long-term thinking about sourcing, hedging, and potentially understanding the strength/weakness of the US' world position.
Consider what the above two points combined mean in terms of smart investing, with a keen recognition that the strategies and weighting used over the last 10 years probably won't get you where you want to be come 2030.
A look at the ITR Optimizer Model, how it has been revamped since COVID-19 struck, and how individual investors can use it to gain on the upside and get protection on the downside.
Questions to be answered
How long does ITR Economics anticipate the US economy will rise?
When should we expect inflation to become an issue?
How do interest rates tie in with the inflation trend?
Is this a good time to be in the stock market? What about the longer term to 2030?
How does the ITR Optimizer work, and how can I make use of it?
Questions? Check out our FAQs!
Still Have Questions?
Interested in December 2020 – Economic Impact on Financial Markets Through 2029 but want to learn more? Feel free to reach out and talk to an expert today.