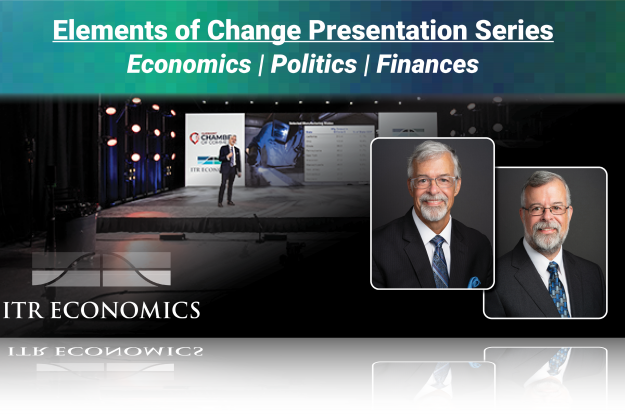 Elements of Change Series
About the Webinars
Changes in Supply, Sourcing, and Perceptions for 2021 - 2022
Recording - 90-minute presentation
Onshoring and the supply chain are two large subjects in businesses today, and rightfully so. We will discuss supply chain resiliency at the company level and why businesses are coming back to the US. There are key reasons that can present all participants with thoughts regarding their own competitive advantages. Onshoring will make the US stronger economically, but it also presents an additional challenge that all businesses must deal with.
The Results Are In: This Is What Changed for 2021 - 2022
Recording - 90-minute presentation
The economic uncertainty arising from this federal election cycle is intense. We are not forecasting the results. However, we are preparing to address your concerns depending on who wins the White House, which party controls the Senate, and which party controls the House. We know that once a layer of "unknowns" is removed, you will make the decisions necessary to prosper and profit going forward.
Economic Impact on Financial Markets Through 2029
Presented in partnership with Baird's Chris Didier and Bellwether Wealth's Clark Bellin
Recording - 90-minute presentation
Economic changes are ahead. Some directly because of COVID but more as a byproduct of COVID and the recession. These changes are going to alter the financial landscape. For the first time ever, we will present our view of the US dollar's overriding direction through an extended period: the end of this decade. Additionally, we have two guests joining us to speak about the investment landscape.
These webinars are not included with the Insider subscription.
Still Have Questions?
Interested in Elements of Change Series but want to learn more? Feel free to reach out and talk to an expert today.