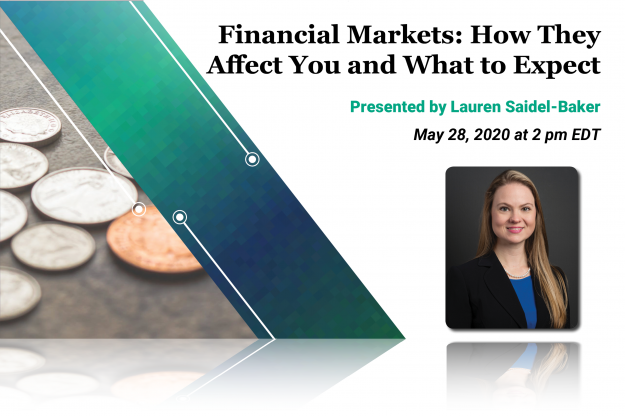 May 2020 – Financial Markets: How They Affect You and What to Expect
Join ITR Economist and Speaker Lauren Saidel-Baker on May 28, 2020 at 2 pm EDT for a 60-minute overview of key financial trends for 2020!
All webinar purchases come with a recording and a copy of the slide deck. Are you an Insider™ subscriber? This recording is included in your subscription!
About the Webinar
Please join us for a discussion on financial markets and their implications for businesses and individuals. In this session, we will cover both current trends and ITR Economics' expectations for the financial realm, including the stock and bond markets, pricing trends and inflation, and interest rates. Attend the webinar to identify key trends that may affect your business as well as practical responses to these market pressures. Factor such developments into your budgeting process and you will stay one step ahead of the shifting market trends!
What will attendees receive?
Attendees will gain a clear understanding of current and expected trends for inflation, bond yields, asset prices, and more. Moreover, they will understand what these trends mean for individuals and businesses. Attendees will learn how to position themselves to weather coming financial trends; they will also learn how to optimally time their strategic actions.
Questions to be answered
What will happen to commodity prices, and when should I lock in input costs for my business?

What is the outlook for inflation this year, and what does that mean for my margins?

What are ITR's expectations for interest rates?
Questions? Check out our FAQs!
Still Have Questions?
Interested in May 2020 – Financial Markets: How They Affect You and What to Expect but want to learn more? Feel free to reach out and talk to an expert today.