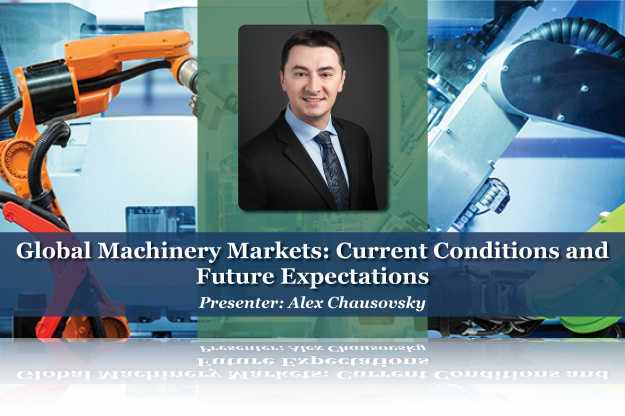 November 2019 - Global Machinery Markets: Current Conditions and Future Expectations
All webinar purchases come with a recording and a copy of the slide deck.
About the Webinar
The global machinery market accounts for hundreds of billions of dollars every year. Many different types of equipment comprise the OEM space. Some categories of machinery trend closely with the cyclical movement of the overall economy; others have a countercyclical relationship. Business investment, i.e., capital investment, is the main market driver. As the global economy decelerates through the end of 2019 and many regions enter a period of contraction in 2020, investment is expected to follow suit. In the latest ITR Economics webinar, presented in partnership with Interact Analysis, we will examine the impact of weaker investment on various machinery markets around the world. We will assess current market conditions and discuss ITR's expectations for 2020.
What will attendees receive?
Machinery manufacturers, distributors, and component suppliers will walk away from the webinar with a better understanding of what to expect from the machinery markets over the next 12 months. Insights into which vertical markets are expected to underperform and which will outperform during the next 12 months will prove invaluable to attendees as they move forward with production and demand planning, inventory management, and growth strategies.
Questions to be answered
What phase of the business cycle is each machinery market in right now?
When should we expect the next cyclical turning point for each equipment market to occur?
How is each machinery market forecast to perform in 2020?
How will pricing changes impact the machinery market over the next 12 months?
Questions? Check out our FAQs!
Still Have Questions?
Interested in November 2019 - Global Machinery Markets: Current Conditions and Future Expectations but want to learn more? Feel free to reach out and talk to an expert today.