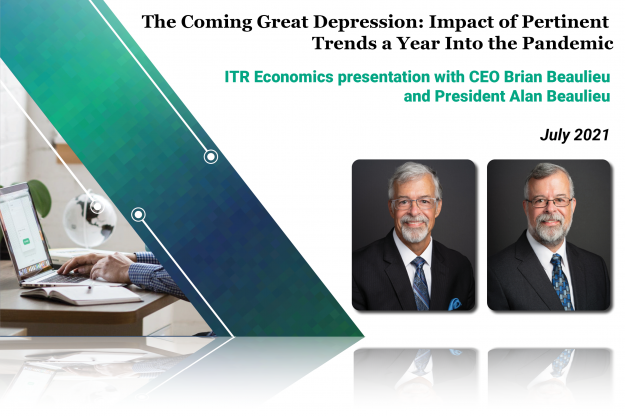 July 2021 – The Coming Great Depression: Impact of Pertinent Trends a Year Into the Pandemic
Presented by ITR Economics CEO Brian Beaulieu and President Alan Beaulieu
The live presentation of this webinar has now passed. Click "add to cart" to purchase the recording.
About the Presentation
ITR Economics' call for a Great Depression in the 2030s remains in place. The causal factors pertaining to that outlook have increased, not decreased, as a result of the pandemic. Our updated analysis indicates we don't need to change the projected timeline, but there are road signs to watch for. We are going to talk about the causal drivers and the timeline at this webinar.
There will be many opportunities and changes presenting themselves between now and the major cyclical downturn. We would be remiss if we neglected to talk about those; with this information, attendees can maximize their wealth before switching strategies in the 2030s.
This event is sponsored by The Great Game of Business, an organization dedicated to coaching businesses to reach their highest potential and value.
Values provided
New input that will be presented at this webinar includes our updated analysis of the strength/weakness of the US dollar and its significant implications on what might be the better investment alternatives for growing wealth as we head toward the Depression.
Inflation and interest rate trends will play a major role in how we prosper in the 2020s and in what happens in the 2030s. Knowing these trend probabilities could enhance profitability and wealth.
ITR's perspective on Modern Monetary Theory and how it may play into the 2030s Depression will be of value as business leaders strive to put current events into context.
What will attendees receive?
Updated insights into why there will be a Great Depression, how current events and economic trends likely set up the dynamics for that decline, and what we are watching to determine if our projected timeline needs to change
ITR's perspective on GDP growth, inflation, interest rates, and wealth creation for the next 15 years
ITR Economics' analysis of the global economic landscape through the 2030s
Questions? Check out our FAQs!
Still Have Questions?
Interested in July 2021 – The Coming Great Depression: Impact of Pertinent Trends a Year Into the Pandemic but want to learn more? Feel free to reach out and talk to an expert today.