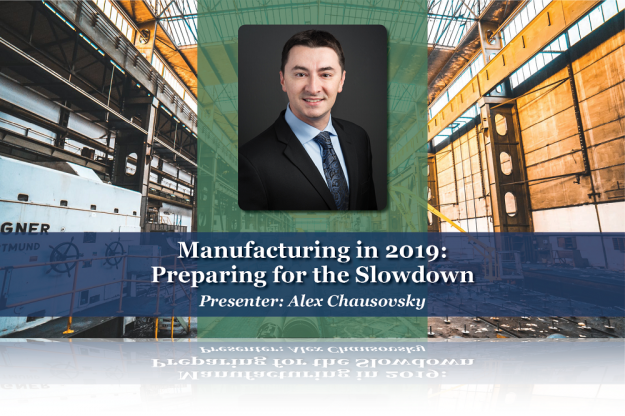 January 2019 - Manufacturing in 2019: Preparing for the Slowdown
About the Webinar
The session will present ITR's views of what to expect from the manufacturing sector in 2019 and beyond, covering such topics as industry trends, business-to-business activity, tax reform, trade, inflation, interest rates and more. Attendees will also learn about a method by which their companies, using their own data, can make better-informed decisions based on the economic environment. Utilizing leading indicators, the audience will learn how to identify their position in the business cycle and which inputs should guide their business strategies to help them make the right decisions at the right time as the economy slows over the course of 2019.
Values provided:
Clear, practical, and actionable advice for manufacturing firms based on the current economic environment and ITR's outlook for 2019
An understanding of government policy's impact on business investment
Inflation and interest-rate expectations for the next 12 months
What will attendees receive?
Attendees will walk away with a better understanding of the timing of the next peak and subsequent trough in the US industrial economy and the manufacturing sector, which will allow them to make better-informed and better-timed business decisions in 2019.
Still Have Questions?
Interested in January 2019 - Manufacturing in 2019: Preparing for the Slowdown but want to learn more? Feel free to reach out and talk to an expert today.