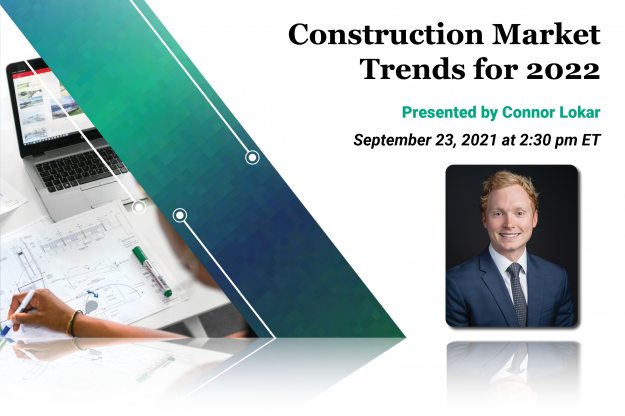 Construction Market Trends for 2022
Event Details
Live event - 60-minute presentation - September 23, 2021 at 2:30 p.m. ET
Recording and slide deck included in purchase

(emailed 24 - 48 hours after conclusion of live event)
About the Presentation
In this webinar, we will take a deep dive into the construction industry, including single- and multi-family residential market trends, regional variations in market performance, nonresidential market trends, material pricing and supply chain expectations for 2022, and market risks and opportunities.
Values Provided
Our 2022 outlook for residential construction
Our 2022 outlook for nonresidential construction
Trend analysis and guidance for relevant construction material costs
The expected impact of relevant policy items, including the infrastructure bill
What will attendees receive?
Attendees will know how much residential market activity expected to slow in 2022.
They will have our expectations of when nonresidential markets will begin to pick up and a vertical-market update on how different sectors are faring to this point.
They will gain understanding of how long the current inflationary and supply chain pressures will last and when they will improve.
Questions about our webinars? Check out our FAQs!
Still Have Questions?
Interested in Construction Market Trends for 2022 but want to learn more? Feel free to reach out and talk to an expert today.