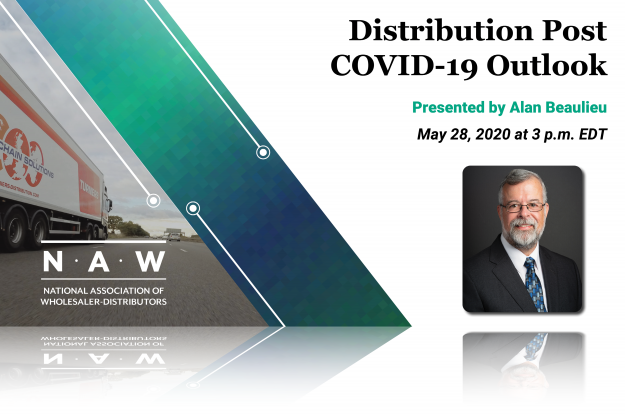 Distribution Post COVID-19 Outlook
This webinar recording is now available to purchase!
About the Webinar
Feedback from April 9 NAW Webinar:
"We utilize ITR's research to develop our forecast and plans for our fiscal year. COVID-19's impact on the economy required modification of that plan. Alan's webinar gave us insight about the direction the economy will take when the virus restrictions are lifted. Any lifting of the cloud of uncertainty gives our management team the ability to make decisions with a higher degree of confidence. Having ITR on our team is a real plus in these difficult times."
- Joe Nettemeyer, President and CEO of Valin Corporation
There will be a lot of new information available since the first webinar on April 9. We will look at the new data, which will include April, and see how bad the fall-off was and determine what we can learn from that input. We will check on leading indicators, the stock market, and what the status is around the country on opening up the economy. Armed with this information, we will determine how close we are to the bottom and what we should be doing as we look at the next rising trend. The timing and slope will vary by industry, and we shall take a look at those differences.
Questions may be submitted before the webinar in order to maximize takeaway value for the attendees. Submit questions.
What will attendees receive?
Attendees will walk away with a better understanding of when the economic trough will occur for their industry segment.
Attendees can apply this information to their own situation.
Attendees will walk away with data-driven information that they can share company-wide.
Values provided
Know whether we are at or near the general economic bottom
Know what is happening in various wholesale-distribution market segments
Understand what the stock market and interest rates are doing now and in the near term
Questions? Check out our FAQs!
Still Have Questions?
Interested in Distribution Post COVID-19 Outlook but want to learn more? Feel free to reach out and talk to an expert today.