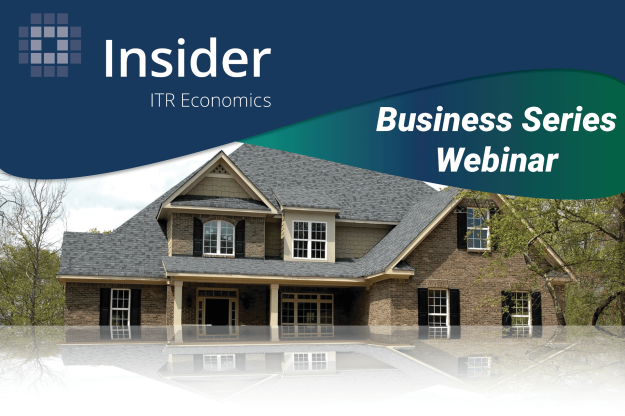 Housing Market Update – Preparing for Growth
This webinar recording is an Insider™ member exclusive! Learn more and sign up today to receive this complimentary recording later this month.
This presentation will be added to your Insider portal on or after August 22, 2023.
About the Presentation
The US single-family housing market is poised for recovery in late 2023 followed by growth in 2024 and 2025. However, there are key differences in the growth outlooks for the single-family and multi-family markets. ITR Economics will take a deep dive into the differences and key leading indicators that inform these outlooks. We will discuss Fed policy and the impact on mortgage rates and what this means for the broader market. Also, tune in to the webinar for a deep dive into key regional trends and areas of opportunity for wealth creation.
Values Provided
Outlook for US housing market for the next three years
Fed policy and mortgage rate impact on the market now and in the future
Key differences from single-family and multi-family perspectives
Deep dive into regional trends and areas of opportunity
Questions Answered
Is now a good time to buy real estate?
Should I wait for mortgage rates to go lower?
What leading indicators suggest recovery in the single-family market through the remainder of this year?
What states are people migrating to, and how do these migration trends support areas of opportunity?
Questions about our webinars? Check out our FAQs!
Still Have Questions?
Interested in Housing Market Update – Preparing for Growth but want to learn more? Feel free to reach out and talk to an expert today.