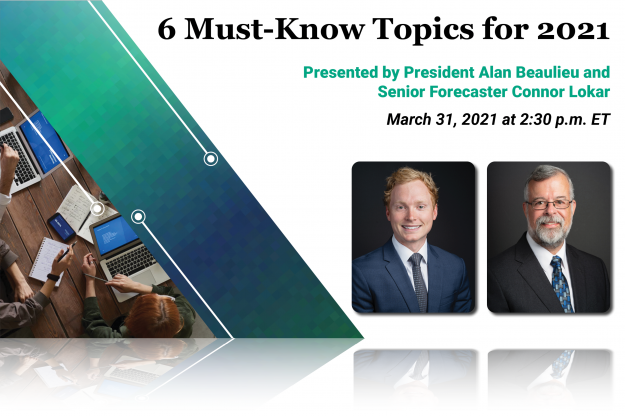 March 2021 - 6 Must-Know Topics for 2021
Presented by ITR Economics President Alan Beaulieu and Senior Forecaster Connor Lokar
The live presentation of this webinar has now passed. Click "add to cart" to purchase the recording.
About the Presentation
We will address six concerns – from commodity prices to employment trends to our Great Depression forecast – so that decision makers can implement effective plans for 2021 and into 2022. There are solid opportunities and good gains to be realized, but first we must put our concerns and hesitations to rest.
Commodity prices and inflationary pressures
Varying business demand by sector
Employment and unemployment
The stock market
Our forecast of a looming Great Depression
The new administration is settling in

–

what is likely to impact your business in 2021
Values provided
We will provide a clear, actionable view of the business environment through the next 12 months.
Many firms are experiencing good growth and wonder how long it will last. We will work to answer that question.
Attendees will walk away with facts that will allow them to put hesitation behind and move forward with confidence.
Questions to be answered
Will Washington be upending my business plans or providing me with opportunities?
Which industries will provide me with solid opportunities, and which ones will not?
Is unemployment of concern for both the economy and for my business?
Commodity prices are rising. How long will that last?
Questions? Check out our FAQs!
Still Have Questions?
Interested in March 2021 - 6 Must-Know Topics for 2021 but want to learn more? Feel free to reach out and talk to an expert today.