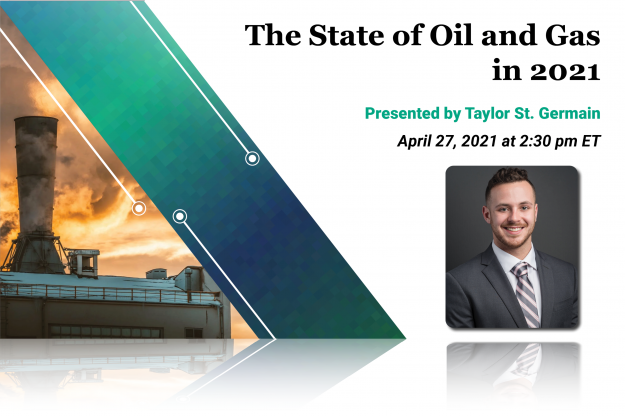 April 2021 – The State of Oil and Gas in 2021
Presented by ITR Analyst and Speaker Taylor St. Germain
The live presentation of this webinar has now passed. Click "add to cart" to purchase the recording.
About the Presentation
During this webinar, we will cover the oil and gas market in 2021 and the important items that require awareness and preparation on the part of business leaders. We will discuss quarterly price expectations, breakeven points, production levels, inventories, demand drivers, capacity needs, and forecasts for key vertical markets. We will also discuss OPEC and recent decisions regarding cutting or increasing production, the consensus on OPEC plans for 2021, and the potential impact on prices and the US market.
It is important that we have a conversation that covers the Biden administration's thoughts and intentions regarding fossil fuels. This conversation will include topics such as natural gas flaring, hydraulic fracturing, and pipelines, i.e. the Keystone Pipeline.
Values provided
A clear understanding of likely price trajectory through the next four quarters
An understanding of supply and demand fundamentals as they relate to production and inventory levels
Recognize the price level needed for profitable extraction of hydrocarbons; evaluate breakeven points
Discuss industry risks and opportunities, including global trends and geopolitical concerns
Understand proposed legislation under the current administration and the future impact on the industry
Questions to be answered
Will oil and natural gas prices rise or decline during the next four quarters?
If OPEC increases production levels, will oil prices drop?
What oil price is needed to drill a new well and be profitable?
What basin is seeing the biggest uptick in production?
How will regulation under the current administration impact future industry trends?
Questions? Check out our FAQs!
Still Have Questions?
Interested in April 2021 – The State of Oil and Gas in 2021 but want to learn more? Feel free to reach out and talk to an expert today.