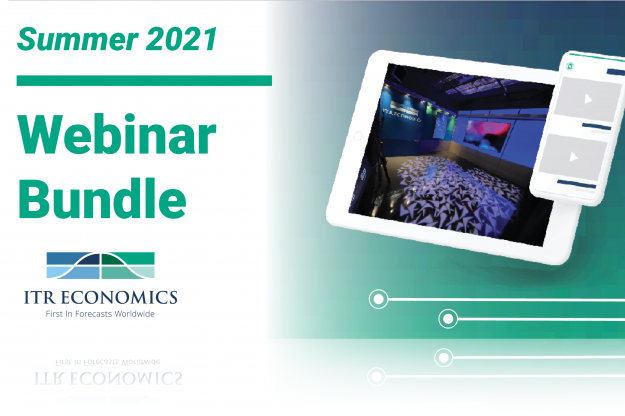 Summer 2021 Webinar Bundle
About the Webinars
Supply, Demand, and Inflation with ITR President Alan Beaulieu and Economist Lauren Saidel-Baker
60-minute presentation - Recording
There are a lot of opinions and genuine concern over materials prices now and through 2022. We will apply ITR Economics' proven methodology to answer the question of whether key commodity prices are going to climb unabated over the next 6-12 months.
The Coming Great Depression: Impact of Pertinent Trends a Year Into the Pandemic with ITR CEO Brian Beaulieu and President Alan Beaulieu
90-minute presentation - July 22, 2021 at 2:30 p.m. ET
ITR Economics' call for a Great Depression in the 2030s remains in place. The causal factors pertaining to that outlook have increased, not decreased, as a result of the pandemic. Our updated analysis indicates we don't need to change the projected timeline, but there are road signs to watch for. We are going to talk about the causal drivers and the timeline at this webinar.
August 2021 - Financial Market Trends: Implications for Businesses and Signals for the Economy with ITR CEO Brian Beaulieu and Economist Lauren Saidel-Baker
60-minute presentation - August 26, 2021 at 2:30 p.m. ET
Looking past the headlines and understanding the data, in particular the data trends, will provide you with management tools for maintaining or increasing profitability as the financial landscape changes underneath us in the years ahead. We will develop this thinking into a dashboard based on trends and ITR Economics' outlook.
These webinars are not included with the Insider subscription.
Still Have Questions?
Interested in Summer 2021 Webinar Bundle but want to learn more? Feel free to reach out and talk to an expert today.